Salem costumes are an haute couture work, result of the careful artistry of Joseph A. Porro, WGN Salem official costume designer. Over 600 costumes and 300 shoes help bring Salem to life. Costume designer Joseph Porro reveals how he dressed Salem Village with both history and fantasy.
Joseph A. Porro, the show's costume designer, who initially sought the job because he's a serious aficionado of Salem's witch hunt period, was given carte blanche to spice up the show with deliciously macabre, skin-crawling (literally), perverse costumes that include accessories such as teeth, bones, human hair and creepy-crawly insects.
"I told my agent, 'Oh please get me in there for an interview.' But they hired me not based on my ability to be historically accurate but because of my high-fashion background," Porro tells Pret-a-Reporter. "They wanted me to bring an edgy look to the show." Their edict? No Pilgrim hats or white collars.
Salem's enchantingly evil witch Mary Sibley (Janet Montgomery) dons a giant maroon plumed hat and sexy low-cut dress with sterling silver bugs and a spider's web sewn on it. "She wears tons of silver jewelry, vintage pieces from the '30s and '40s," says the costume designer, who was Emmy-nominated for The Music Man in 2003. "She's dripping with jewelry. Not even Game of Thrones has this level of jewelry." In past episodes, Sibley has also been draped in in semiprecious stones ("She had on about a thousand carats of amethysts," says Porro) and smothered with long Victorian silver chains.
Porro says he can get away with the crazy accessories and modern reflective fabrics such as black patent leather and vinyl — as long as he keeps the period silhouette: full skirts, nipped high waists and puffy shoulders. But he went all-classic action hero for John Alden's look.
"The actor (Shane West) wears leather that looks naturally aged. The coat has hand stitching all through it. There's a great leather guy out of L.A. who does primitive-looking skin. It's aged and goes through dying that takes days just to get it to look like it's really beat up and has been worn for two years," he notes. "It's a labor-intensive [read: expensive] process." We bet.
Another nameless character wears a bird's head mask and lurks in the woods covered in moss to blend in. "They created these strange bird masks at that time. I just took that and incorporated the mask into the moss, twigs and netting so he disappears into the forest. I think I bought every piece of moss in Los Angeles," says Porro.
Among Porro's upcoming oddities are a crocodile cape and a human-hair dress, which he says of the latter: "I have a friend who does amazing necklaces out of human hair and I've been collecting Victorian mourning jewelry, all made out of human hair. We're going to do a bonnet out of it. And I have the jewelry all set. We're actually knitting the whole dress of hair and black pearls. It'll look very gothic and very creepy."
He's even got a dung beetle dress coming up too. He sourced the shiny turquoise beetle wings from Thailand, where they're used as a protein source. So far, Porro's piece de resistance is a coat worn by a character who scavenges skin and bones from a nearby outcast paupers' cemetery.
"There's a ghoul character who comes in and skins them all and wears a coat made out of human skin, with ears and human teeth all stitched together. It's really disgusting. It's the creepiest thing I've ever made in my life. It's just like creepy, creepy, and creepy. But it's fun."
Despite the show's extravagant production values, Salem's costume department budget is not in the red. Porro is actually doing it all on a shoestring.[1]
Women's fashion in Salem at the time of the trials was very conservative. The church dictated the dress code, and women were to wear large dark outfits that hid their form and most of their skin. In fact, convicted witch Sarah Bishop was in part accused thanks to her "flamboyant dress." [2]
Porro said the inspiration for many of the costumes came from paintings and photographs from that period, the late 1600's. "Then our producers wanted us to have a little fun with the stuff, make it a little sexier, a little more fashionable for modern audiences," he said, adding that "They may not be the most comfortable outfits, but they are helping the actors get into character."
Main article: Mary Sibley/Wardrobe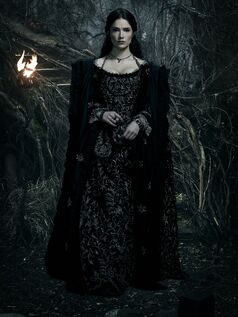 Mary Sibley dresses are among the most refined and elegant, suitable for her high social status as George Sibley's wife, the head of the board of selectmen. The clothes worn by Mary Sibley are definitely anachronistic and provocative to be accepted by a strict Puritan dogma, but perfectly represent the theme of the show: sensual and obscure. The clothes sported by Mary Sibley over the episodes vary in shades of burgundy, purple, black. Always accompanied by jewels and embellished with masterfully executed decorations and seams, they are to be considered as a real artwork for the thoroughness with which they were sewn. The clothes are often accompanied by capes and cloaks embellished with details that recall in some way the natural world and to some extent that of witchcraft, without mentioning bonnets and hats elegantly worn by Salem most rich and notorious woman.
Main article: John Alden/Wardrobe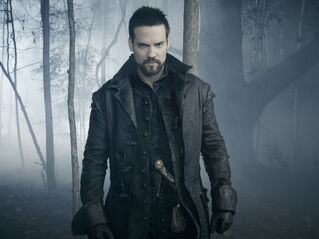 Captain
John Alden
is a war veteran and a practical man. His general outfit consists of shirts and trousers in a simple fashion and leather boots. John Alden wears leather that looks naturally aged. The coat has hand stitching all through it. "There's a great leather guy out of L.A. who does primitive-looking skin," said Porro. It's aged and goes through dying that takes days just to get it to look like it's really beat up and has been worn for two years. Joseph Porro wanted to tap into an iconic all-classic look for John Alden.
Main article: Cotton Mather/Wardrobe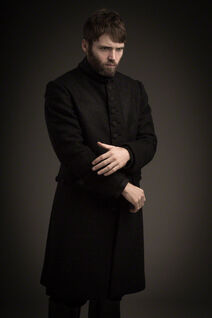 Reverend
Cotton Mather
clothing is suitable for his ministerial office. For the entire first season of his clothes were of strict and thoroughly historical reproductions of a Puritan clothing, precise even in the ribbons that bound his cuffs. These costumes also serve to give an aura of severity to the character, helping the actor to get better in part as stated by the same
Seth Gabel
in an interview. The total-black look was replaced in the second season by brown and blue vests and pants, also due to a certain lack of freedom and political role requiring decorum and elegance.
Main article: Anne Hale/Wardrobe
Anne Hale
is the daughter of Magistrate Hale in Salem, and as such enjoys a certain economic wealth. Her outfits are much less elaborate than those worn by Mary Sibley, but not dowdy. Anne Hale costumes are more in line with the historical period, chaste and dark according to the Puritan dogmas. Only during the second season they become more elaborate and curls of detail as if to run hand in hand with the blossoming of the young witch into her power and not just wealth. In the third season, Anne's clothing became more rich and elaborate to reflect her new status as wife of Reverend Mather and also to highlight her status in the witch hierarchy as the long-lost daughter of the
Countess Von Marburg
.
Main article: Tituba/Wardrobe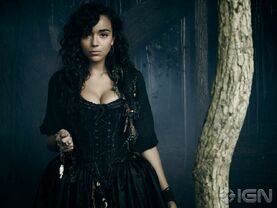 Mysterious
Tituba
has the exotic look of the witch. Her dresses range from simple handmaiden clothing or uniforms to intriguing items of clothing that recall the occult through jewelry in the shape of a raven's skulls and other details. She more often than not also accessorised her outfits with rings and bracelets. The colors worn by Tituba are mainly burgundy and black.
Main article: Mercy Lewis/Wardrobe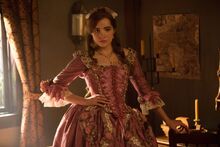 Mercy Lewis
is the character who has gone through most changes in clothing styles, along with
Anne Hale
. Initially devoted daughter of the local Reverend, with her dark clothing and candid undergarments covered in blood and vomit during her brief demonic
possession
, Mercy briefly experienced a taste for luxury under the protection of
Mary Sibley
, wearing pale pink dresses. With the forced hermitage in the woods, her clothes were rough and damaged dress, only to return wearing more flourishing than ever luxurious clothes generously offered by the
Countess Von Marburg
in the second part of Season Two, making Mercy able to wear even more sumptuous dresses of those worn hitherto by Mary Sibley. During her career as madame of the
Bird's Nest
brothel, Mercy resorted to coquettish red dressed highlighting her profession.
Main article: Isaac Walton/Wardrobe
Isaac Walton
wears clothes very similar to those of his friend and staunch ally Captain
John Alden
, although definitely more worn and less detailed. Coats of tanned leather, leather boots, pants, and shirt sleeves are garments worn by Isaac Walton throughout the whole series, often dirty or damaged by wear.
Main article: Sebastian Von Marburg/Wardrobe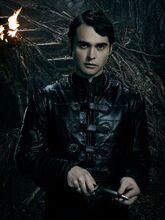 Baron
Sebastian Von Marburg
is the man with the most stylish clothes, mainly due to the European aristocracy inherent vanity of the time. Researched in detail, Sebastian's garments vary according to the occasion. He was seen wearing elegant gowns and dresses chamber, complete with gold stitching and elegant baroque textures, as much as austere clothes in line with the Puritan style even up to leather military uniforms in shades of red and black.
Main article: The Devil/Wardrobe
John Sibley
used to wear fine clothes of a wealthy child born into a Puritan community since the time when he was reunited with his mother. These dresses are similar to some clothes worn by Sebastian Baron Von Marburg, complete with black rich accessories such as capes and rings, and elegant shoes with shiny buckle. From the moment the Devil has taken full possession of the child body, he has sported a candid white dressing gown that made him like a Roman emperor or a bishop of the Church of Rome. Outside the home, his clothing continues to be totally black, but elegant as a kind of child version of those sported by Sebastian Von Marburg.

Note: More detailed information on the appearance and clothing of the various characters is expected to be found at the attached links.

Main article: Countess Von Marburg/Wardrobe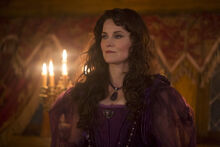 Countess Palatine Ingrid Von Marburg
is undoubtedly the character who sported the most extravagant and colorful clothes during the series. Her status as European aristocratic allowed her to indulge in decidedly indecent clothes according to Puritan morality, made up of colors and very expensive materials. Her astral double even wore a short tunic made of braided human hair with shells instead of gems as decorations. This was a reference to her past incarnation as a "Pagan Siren" and her affinity to the water element to practice her witchcraft. In important and formal situations, Countess Von Marburg also wore sober and decorous clothes similar to those of
Mary Sibley
when artenting gatherings at the
meetinghouse
, constituted by elegant and richly decorated with jewels sewn onto the fabric. Countess' dresses are always full of accurate details that seem to appear more and more every time you look more carefully. They include dressed made up entirely of allegedly human hair, esoteric details and embodied gems.
Main article: John Hale/Wardrobe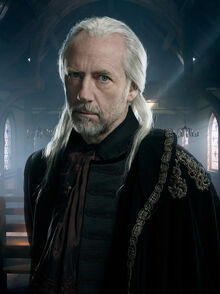 Magistrate
John Hale
is the epitome puritanical clothing, facilitated by considerable economic wealth. Frock coat finely stitched with gold buttons, hoods elegantly lying on the shoulders, silk ties and shoes with shiny buckles. he often wore broad-brimmed hats. His clothing is of lower elegance only to that of an aristocrat.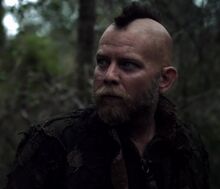 Petrus
' clothing is downright bizarre, consisting of tanned leather and embellished with details nothing short unusual. For example, a necklace made up of the paw of a rate, bone buttons and finishing with great references to the natural world, similar to some extent to Native Americans rather than settlers.
Main Article: Samuel Wainwright/Wardrobe
Costume and Wardrobe Department[3]
Jesse Trevino, head ager/dyer (39 episodes, 2014-2016)
Anette Czagany, assistant costume designer (33 eps, 2014-2016)
Jane Ryder, seamstress/tailor / set costumer / set costumer and seamstress/tailor (26 eps, 2014-2015)
Melissa Naccari, key costumer (26 eps, 2015-2016)
Christian Cordella, costume illustrator (25 ep, 2014-2016)
Annette Farnswort, set costumer (21 eps, 2014-2015)
Maggie McFarland, cutter fitter (19 eps, 2014-2015)
Rendell Bryce, key costumer (18 eps, 2014-2015)
May Azzow, set costumer (17 eps, 2015-2016)
Hannah Gates, key costumer/costume supervisor (16 eps, 2014-2015)
Kelly Gates, seamstress (13 eps, 2014-2015)
Ian Churchill, ager/dyer / costume pa (13 eps, 2014)
Pamela Waggoner, key costumer/key set costumer (13 eps, 2014)
Frank Avanzo, key costumer (13 eps, 2015)

Laine Dubroc, costume ager and dyer (13 eps, 2015)
Marcus Montoya, ager/dyer (13 eps, 2015)
Giselle Spence, seamstress (12 eps, 2014)
Steven Miramontz, Wardrobe photographer (12 eps, 2015)
Shannon Jantz, key costumer (10 eps, 2014)
Sarah Soape, wardrobe accountant (10 eps, 2014)
Rodney Williamson, set costumer (10 eps, 2014)
Katy Morecraft, seamstress (10 eps, 2015)
Sabra Temple, key set costumer (10 eps, 2015)
Tim Wilson, patternmaker and fitter (8 eps, 2014)
Betsey Potter, assistant costume designer (8 eps, 2015)
Bailey Shouse, costume pa (8 eps, 2015)
Michele B. McGraw, costume production assistant: day player/costume production assistant: additional photography: day player (4 eps, 2015)
Ashley M. Clark, additional costumer (3 epes, 2014)
Urmilla Lal Motwani, asst costume designer: India (3 eps, 2016)
Aura Sperling Pierce, stitcher (3 eps, 2016)
According to Ashley Madekwe ("Tituba"): "Our corsets are real. There are no zips, no buttons. They're incredibly restrictive and I don't feel that elegant in it, because there are so many layers."
Janet Montgomery ("Mary Sibley") also said: "It is difficult, because I'm in like three skirts and two corsets, and then I have to act on top of that," and "Joseph has done such an incredible job with the costumes, and he's so period accurate. As much as I might complain about it when I don't want to put it on at like 6 in the morning, it actually does help my character. I'm a sloucher. I have no choice but to stand up properly,"
One of the interior set that's part of a soundstage in downtown Shreveport, LA. which appear like a forest had been transformed into a wardrobe, displaying some unique and downright disturbing outfits.
Some of Joseph Porro's statements about the costumes are as follows:

"I have a ghoul over here who's a reoccurring character, made out of human skin. He has everything from ears to real human teeth as buttons," Porro said. "I wanted faces and hands, backs and highs, and they've all been hand sewn together. So that was one of the craziest things I've ever made in my career."
"This is one of Mary Sibley's dresses. The dress is half silk and half patent leather. And this is Petrus, our alchemist who lives in the forest and blends in. It's almost like a forest camouflage he wears."
"Then our producers wanted us to have a little fun with the stuff, make it a little sexier, a little more fashionable for modern audiences,"
Community content is available under
CC-BY-SA
unless otherwise noted.