Salem Press Kit is a pre-packaged limited edition set of promotional materials distributed for promotional use, generally during Comic-cons. They are distributed to announce the release of each season of WGN Salem.
It is valuable merchandise, which competed to be possessed as television memorabilia by biggest fans.
Season One - The Spellbook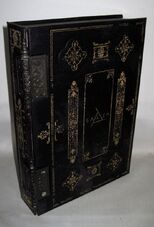 The press kit of the first season is shaped like an ancient book and was launched in a limited edition for the release of the TV series.
The kit includes a DVD featuring the 1st episode of the show, a colorful press book filled with great images and information about the production, and a thumb drive in the shape of a key that contains production information. The first season press kit is a very large and impressive volume that resembles an evil-looking, detailed witch's spell book with huge black hinges and the SALEM logo, with other intricately diabolical design elements in gold on the cover (see photo).  The huge crusty-looking witch's volume measures 13" x 9 1/2" x 2 1/2", and opens to reveal the materials and images. 

Season Two - The Malum casket
On 2015 the showrunners released a uniquely packaged press kit promoting Season 2 of the WGN series Salem.
The print press kit comes in a stunning triangular box with a faux-leather exterior and ornate antique-like hinges and the title and outer artwork (measures just under 13" on each side, 3 ¼" high). Inside is a triangular glossy press kit with 12 pages of Salem's background, production credits, color photos of the lead cast with character/performer info and executive producer bios. Also, there's a glossy manila triangular poster that opens up to measure 22 ½" on all three sides – there is also promo artwork on each of the triangle panels on the other side. In addition, the press kit comes with a little Malum replica.

Season Three
During the promotion of the third season at the New York Comic Con 2016, Shane West ("John Alden") and Janet Montgomery ("Mary Sibley") have signed some old press kits of the second season for Salem fans at New York Comic Con (NYCC).
As of November 2, 2016 (Season Three premiere date) no news regarding a press kit of the third season was available.

Trivia
Unlike the DVDs, the press kits are a limited edition and therefore are difficult to find if not purchased during the various promotional panels.
For the release of the second season, it was announced a contest on the official Facebook page where some copies of Season two press kits were sent as a give away to the winners.
Only the first season press kit contain a DVD and multimedia material.
Gallery
See Also