Warning!
Archive of official material released as extra bonus on the discontinued official website. Therefore, it should be considered for consultation only.
An inside look into the world of Salem release on WGN America official site. Select from various scenes from Salem TV show to find out the history that inspired the events in the show, as well as various other behind-the scenes content. [1]
The Town Square
Episode 1: The Vow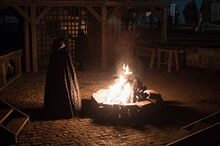 It is the year of our Lord sixteen hundred and ninety two and Satan has cast his spell over this quiet village in the Colony of Massachusetts. While many merchants in town grow rich, the farmers of Salem Village have faced years of poor harvests and harsh conditions. There is much unrest here, and the blame lays with the ever strengthening forces of the devil himself. Welcome to Salem Village.
WITCHCRAFT WASN'T ALWAYS DARK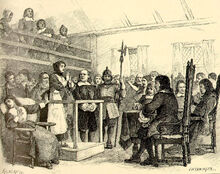 Witchcraft began as a way for superstitious farmers to grow their crops. They cast spells and laid charms on their farms in order to encourage their plants to grow large and harvests bountiful. It did not take long for this to transform into "dark magic," and the Puritanical villagers of Salem had no tolerance for anything with an unexplainable or extraordinary nature. Seizures were thought to be signs of possession.
THE TRIALS WERE HELD FOR 16 MONTHS.
Of the 72 accused souls tried for witchcraft between February 1692 and May 1693, 20 of them were put to death. Perhaps this is fewer lives lost than you thought. Perhaps it's more. In either case, it is 20 lives too many. And their stories haunt Salem's history to this day.
Trial of Bridget Bishop
Episode 2: The Stone Child
THE REAL BRIDGET BISHOP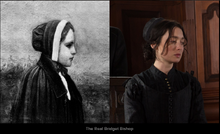 Bridget Bishop was the first woman tried and convicted of witchcraft in Salem. And she hung for it. She was an easy target for the villagers; her second marriage was marked by loud screaming matches with her husband. When he suddenly died, she inherited his estate and remarried. Before her witchcraft trial, she had been in court for profanity and theft.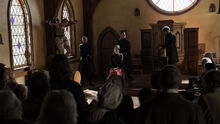 TRIAL OF BRIDGET BISHOP
Bridget was tried for five counts of witchcraft, and the good people of Salem were happy to help the court reach a speedy conviction. More than ten witnesses described the horrible ways that Bishop used to torture them at night, some swore that she killed their children, and a couple even claimed she left demonic dolls in their home. The guilty verdict was reached promptly.
The Sibley Residence
Episode 3: In Vain
DRESSING DIFFERENTLY WAS DANGEROUS IN SALEM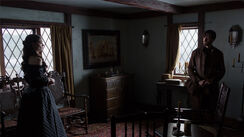 Women's fashion in Salem at the time of the trials was very conservative. The church dictated the dress code, and women were to wear large dark outfits that hid their form and most of their skin. In fact, convicted witch Sarah Bishop was in part accused thanks to her "flamboyant dress." Perhaps Mary Sibley should consider a less flattering outfit if she wants to remain free to plot and plan.
COSTUMES
Over 600 costumes and 300 shoes help bring Salem to life. Costume designer Joseph Porro reveals how he dressed Salem Village with both history and fantasy.
Mary's reflection
Episode 4: Survivors
MARY SIBLEY, UNDER THE SKIN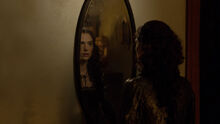 Mary Sibley is strikingly beautiful… on the outside. Her fair complexion and classically stunning features knock the men of Salem off their guard, and help her project the image of an intimidating and regal village leader. On the inside, Mary is a witch who has done some horrible things. Her demonic side appears as a monstrous old "hag" who looks more dead than alive. This Mary is decaying before our eyes, just as her soul has been doing for years.
Dancing in the Moonlight
Episode 5: Lies
WITCHCRAFT IS DANGEROUS CHILD'S PLAY
The children of Salem did not have much to occupy their imaginations. As Puritans, they were expected to behave as maturely as the adults in town, and there was little tolerance for the "sinful distraction" of play. In fact, the excitable behavior of young Betty Parris and Abigail Williams is what began the witch trials. They became so obsessed with a slave named Tituba and her fortune telling, that the town ruled them "bewitched." What else would explain the mighty Reverend Parris' daughter wish to play and explore in public?
Map of the New World
Episode 6: The Red Rose and the Briar
SALEM WAS AN IMPORTANT PORT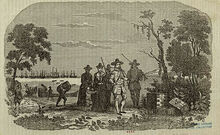 Salem was not just important due to its witch hunts. It was also one of the most important colonial ports in America. By 1790, the Salem Harbor was the 6th largest in the United States, and world famous for its international trade.
FEAR OF THE UNKNOWN BROUGHT THE TRIALS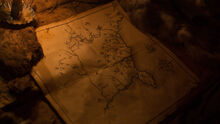 The Puritans of Salem had two major fears: the devil and Native Americans. Neither danger was ever far off. They believed anything unfamiliar to be a product of the devil, and Native American tribes lived very close to the outskirts of their village. The witch trials were a way to feel in control of a world that constantly had them fearing for their lives.
THE US NATIONAL GUARD STARTED IN SALEM
Salem's obsession with security has not always come in the form of executing the innocents. On January 10, 2013, Barack Obama officially named Salem the birthplace of the National Guard.
The Ship's Hull
Episode 7: Our Own Private America
ENGLISH SLAVERY WAS BASED ON RELIGION.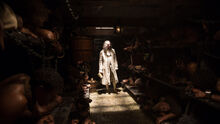 The first Africans brought to America were indentured servants. They would work a length of time in order to pay back the debt of the voyage to the new world, then be free. The English had no tradition of enslaving based on race… only religion. They enslaved non-Christians, only freeing them once they had converted. However, in the mid seventeenth century, a change occurred. The colonies realized it made more economic sense to hold onto this labor for as long as possible, so slavery began to be measured on an unchangeable metric: skin color.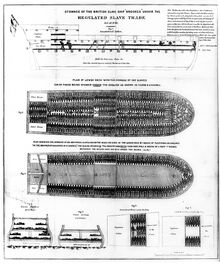 LEGAL SLAVERY IN AMERICA STARTED IN MASSACHUSETTS
Massachusetts was the first colony to legally recognize slavery. They did it in 1641. With this law, the state sanctioned a legacy in the United States far more damning and wide reaching than the witch trials of Salem Village.
SLAVE SHIP CAPTAINS PACKED SLAVES LIKE CARGO
Owners of slave ships considered their cargo to be no different than any other commodity. They packed slaves as tightly as they would coffee, tobacco or lumber. Often slaves were sardined together so closely there was no room to walk between them. Thanks to this practice, disease spread like wildfire on these ships and 20% of all inbound slaves did not survive. Small pox, yellow fever, and dysantary were common. Malaria first came to America via slave ship.
Enter Increase Mather
Episode 8: Departures
THE REAL INCREASE MATHER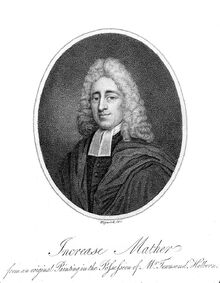 Cotton feels he lives in his father's shadow, and he is not wrong. Increase Mather was one of the most influential men in the colonies. He graduated Harvard, class of 1656, and later would rise to be the President of the university. His position as the North Church's minister gave him the ear of Massachusetts' richest and most powerful citizens.
INCREASE AND THE WITCH TRIALS
Increase Mather never denounced the Salem Witch Trials. However, he did warn against the use of "spectral evidence." He wrote in a famous treatise that "It were better that Ten Suspected Witches should escape, than that one Innocent Person should be Condemned." One can only imagine the tension this may have caused with his son.
FREEDOM OF (REPRESSIVE) RELIGION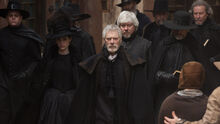 Many Puritans came to the colonies for religious freedom. However, their religion allowed for very few personal freedoms. Expression of emotions and opinions were frowned upon and missing church was considered a crime. If a Puritan's neighbors were in need, the neighborly thing to do was to let them struggle through it - for they were certainly being punished by God.
FATHER KNOWS BEAST
Even men of God long for their father's approval. When Increase comes to town, it's clear that Cotton will never get it.
Tituba Feeds Her Familiar
Episode 9: Children, Be Afraid
THE REAL TITUBA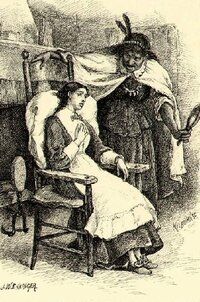 Tituba was a slave owned by Samuel Paris, Salem's Puritan Minister. She played a central role at the very start of the Salem Witch Trials. As the first person accused of witchcraft by the girls Betty Paris and Abigail Williams, she was one of the first to stand trial. At first, she denied that she was a witch, but after a beating by Minister Paris, she confessed. And she confessed a lot. Her tales of flying broomsticks, demonic animals, and other witches in the area caused a panic in Salem. Was her confession an act of desperate panic? Was it a calculated punishment for the unjust town? Perhaps the most amazing piece of Tituba's story is this: she survived her conviction. She spent a small time in jail, and was then released. Never to be seen or heard from again.
GET FAMILIAR WITH FAMILIARS
A familiar is a witch's animal guide. It helps a witch harness it's new dark powers, and helps the witch become the best tool for Satan that it can be. Originally seen in European Folklore, the familiar is a necessary tutor for any new witch and a useful aide for a more experienced one.
FIND YOUR FAMILIAR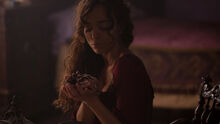 A familiar walks, hops, or slithers into a witch's life one of three ways. One: It appears before the witch while the witch is completing a mundane task. Two: It is handed down to the witch by a family member or dear friend. Three: It appears just in time to help the witch out of a perilous situation. However it occurs, this meeting is always good for the forces of Satan.
Tools of Torture
Episode 10: The House of Pain
THE PEAR OF ANGUISH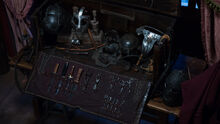 It may be named for a fruit, but there is most certainly nothing sweet about it. This device is placed in a subject's orifice, then slowly cranked open wider and wider until the subject confesses. A death from blood loss was not uncommon.
DUNKING
One straps a subject to a seat and lowers it all the way into water, then briefly allows the subject to come up for air before being lowered back down. While desperately inhaling, the subject is asked to confess. If there is no confession, it means more dunking. If there is a confession, it could very well mean an immediate conviction and death by dunking.
PRESSING
This simple yet effective method of torture comes from the shores of France. One simply presses an increasing load of weight on a subject who refuses to plead innocent or guilty until the load becomes too much to bear. It is important to monitor the weight carefully, however, for slip ups resulting in a flat subject are known to happen.
THUMB SCREW
There is little risk of death using this conveniently portable device. Depending on your perspective, that is either a positive or a negative. In any case, a screw is twisted down onto a subjects finger, breaking the nail and exposing the nerve endings. It has an unmatched high-pain to low-hassle ratio. While a risk of death is minimum, it may be difficult for the subject to sign a confession.
Cotton's Study
Episode 11: Cat and Mouse
COTTON MATHER: MAN OF CONTRADICTIONS
Cotton Mather's legacy is one of stunning contradictions. He was a leading voice for inoculation as a method of disease prevention by 1721, yet thirty years prior he was celebrating the witch trials with a religious fervor. Perhaps he learned what it felt like to be persecuted when an anti-inoculation fanatic threw a lighted grenade through his window
COTTON MATHER WAS A BIG DEAL
Cotton Mather was one of the most influential religious leaders of his era. He published over 450 books and pamphlets, and was a large influence on the religious tone in all the colonies. If not for his involvement with the Salem Witch Trials, he would have become the President of Harvard University
Moonlight Gallows
Episode 12: Ashes, Ashes
THE LESSON OF THE GALLOWS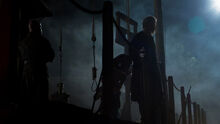 When a criminal was hung at the gallows in the town square, the hanging was hardly about the criminal. It was about everybody else who was there to watch. Public hangings were considered morality lessons for children and other vulnerable townspeople. There was thought to be no greater deterrent for criminal activity than the sight of a criminal's death.
DEATH BY HANGING
While there are four known methods of causing death by hanging, only one was used in the American Colonies: the short drop. This meant that the victim would die of strangulation. Much later, the world would adopt the long drop method, which would "humanely" snap the victim's neck before the pain of strangulation was felt at all.
Mary Holds Salem's Fate
Episode 13: All Fall Down
PLAGUES ARE NOT JUST A BIBLE STORY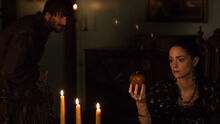 A plague - or a pox in Salem - was any disease that decimated a population. People believed that it was a punishment from God. It was the only way to make sense of such a devastating loss of life.
CURING A PLAGUE: DAMNED IF YOU DO, DAMNED IF YOU DON'T
For many years, any doctor who tried to cure a plague was labeled a witch. The pox was God's will after all, and must be a fitting punishment to any who succumb to it. However, as the years went on and the death toll from disease mounted, even Puritans gradually accepted inoculation as an acceptable alternative to death. Thanks in part to a leading inoculation advocate, Cotton Mather.
References
See Also
Community content is available under
CC-BY-SA
unless otherwise noted.