Warning!
Archive of official material released as extra bonus on the discontinued official website. Therefore, it should be considered for consultation only.
An inside look into the world of Salem release on WGN America official site. Select from various scenes from Salem TV show to find out the history that inspired the events in the show, as well as various other behind-the-scenes content.[1]
The Ritual
Episode 1: Cry Havoc
THE DECIMATION OF THE NATIVE AMERICAN
Yes, there was much fighting between colonists and Native Americans. And yes, the colonists had vastly superior weaponry. However, these battles did virtually nothing to harm the Native American population next to the true killer: disease. Europeans had built immunities to the germs they carried with them for countless years. The Native Americans, however, had no such defense. Smallpox mercilessly ripped through tribes and communities up until 1832, when the Federal Government, a vaccination program for Native Americans was established.
THE WEAPONIZATION OF SMALL POX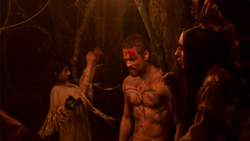 While it was the disease that killed the Native Americans, in some cases Colonists were accomplices at the very least. In order to thin out and weaken a tribe before a push for their land, some colonists gifted tribes with blankets to stay warm through the winter. These blankets were covered in the small pox virus.
THE ORIGINS OF SMALLPOX
Small pox has been with mankind for over 10,000 years. It has killed Pharaohs and peasants alike. It decimated Europe in the late 18th century. It is estimated to have killed 300-500 million people in the world in the 20th century alone. And it came close to completing a genocide of every Native American in the land until the government began offering vaccinations to Native Americans in 1832.
AN OUTBREAK IN SALEM
Small pox came to Massachusetts in 1633. A young Increase Mather declared the outbreak a "divine judgement" in favor of the Pilgrims. He believed it would wipe out the non-believers and leave only the Puritans.
The meeting of Anne and Countess Von Marburg
Episode 2: Blood Kiss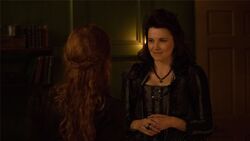 THE ORIGINS OF EXECUTION FOR WITCHCRAFT
Witchcraft started long before Europeans landed in the new world. A woman in Ancient Greece was burned for necromancy, the practice of communicating with the dead. In Ancient Rome, black magic was punishable by death. By the middle ages, the practice of burning witches alive had spread all the way to Britain. By the 1300s, witch hunts occurred with some regularity in Europe, and continued for many years. This dark legacy carries all the way to Salem Village, Massachusetts.
Women's Rights
Episode 3: From Within
COLONIAL WOMEN HAD NEARLY NO RIGHTS
The colonies in the seventeenth century were not a particularly great place to be a woman. In nearly every way, women were second class citizens. Colonial women, under no circumstance, could vote, hold public office, or serve on juries. When a woman wed, her freedoms disappeared even further. Her new husband would come to own literally everything in her possession aside from her clothing jewelry. This included any children that they would have together.
THE BENEFITS AND DIFFICULTIES OF ENDING A MARRIAGE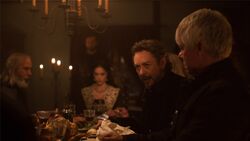 The list of privileges married women did not have goes on: a woman could not make an independent will, buy property, make a contract, or sue in court of law. However, an unmarried woman or widow did have these rights. Divorce was not an option, as the settlements did not recognize it. Therefore, the only way out of a marriage was the death of a husband. And one more thing: a widow would receive ⅓ of her husband's estate.

Corwin's Autopsy Awaits
Episode 4: Book of Shadows
THE ANATOMY OF THE AUTOPSY
People have been using the word "Autopsy" since the 1700s, but conducting them since much farther into the past. The word comes from the Ancient Greek word "Autopsia" and means "To see for oneself." The dissections began even before the Ancient Greeks existed at all. In 3000 BC, Egyptians carefully and ritualistically removed human organs to ready the body for mummification.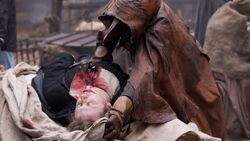 TEACHING TWO LESSONS WITH ONE CUT
In ancient Alexandria, autopsies served two purposes. The first was to teach anatomy and pathology. The dissection of a human body is still used for this purpose in the medical community today. The second purpose was to serve a lesson to would-be evil-doers: the autopsies were performed on criminals… while they were still alive.
THE HEART OF THE RENAISSANCE
The modern medical autopsy has its more recent roots in Renaissance Italy. It was there that intrusive medical examinations of the dead became commonplace, despite loud protests from the Catholic Church. Many Italian universities included these examinations in their course load by 1350, and the Church quietly dropped its protests by 1500.
A Spell is Cast
Episode 5: The Wine Dark Sea
PHILIA: THE LADIES' LOVE SPELL OF ANCIENT GREECE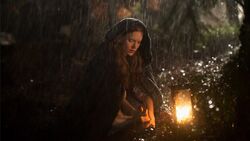 Women were casting spells long before Puritan ships hit Plymouth Rock. In Ancient Greece, women used "philia spells" to repair their relationships with their men. It sounds sweet, but it was all about control. These spells included narcotics and herbs, but the most widely used phelia is still used today: wine.
LOVE SPELLS: MAYBE SHE'S BORN WITH IT, MAYBE IT'S WITCHCRAFT.
When a woman cast a love spell, she would most often cast it on herself. While her aim - of course - was to manipulate her man, she would do it by making herself seem younger and more beautiful. And how would a woman carry out this spell? By using facial ointments and other topical creams. What was once witchcraft now has an aisle in every store.
The Battle for Anne's heart
Episode 6: Ill Met by Moonlight
FIGHTING OVER A WOMAN: TALE AS OLD AS TIME. LITERALLY
For as long as there has been love, there have been love triangles. Nothing gets men back to their natural wild state quicker than competition for a mate, and there has always been competition. The earliest fights over women often resulted in death for the losers, and possibly the end of their entire society.
FIGHTING OVER A WOMAN: THE PROOF IS IN OUR BONES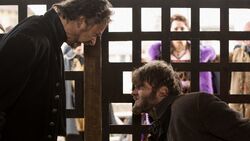 How do we know about these early battles? Skeletal remains. Some of the oldest mass graves in the world hold the bones of men and children, but no women. The women did not die in the battle because they were the victorious side's reward. When one tribe stole another tribe's women, leaving bodies and destruction in their wake… the losing tribe ceased to exist.
A BEAUTIFUL LOVE AND A BLOOD FILLED WAR
The heart wants what the heart wants. Even if it has to start a world war to get it. The most famous case of love's bloody implications comes all the way from Ancient Greece. Helen of Troy's beauty caused a fire in the hearts of men that brought the Trojan War. When a Prince Paris of Troy kidnapped Helen from her husband, Menelaus of Sparta, he ignited a ten-year war that brought great societies of antiquity to their knees.
Rivals at dinner
Episode 7: The Beckoning Fair One
PURITAN CUISINE
It is said that the way that people of a culture eat says more about them than almost anything else. So it should not be a shock that the Puritan Cuisine was simple, modest, and plain. In spite of the abundant game and seafood, Calvinist settlers largely stuck with their Anglican fare of baked beans and pease porridge.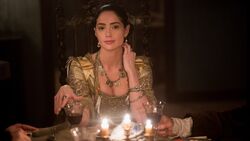 NO SECONDS, NO SINNING
The strict austerity of Calvinist Culture certainly extended to their eating habits. Eating was largely considered a practical necessity, not an opportunity to enjoy tastes or stuff one's self to the ears with maize. Puritans judged feasts and overeating harshly. Once an imagine what their thoughts may be about modern American dining.
FUNERALS
Funeral feasts were a regular event in New England. It was the only time deemed excusable to eat one's feelings. Puritans generally ate and drank more than their fill at funerals, and even the children would end up drunk and stuffed by the day's end. (July 4th was just the day between July 3 and July 5 in the colonies)
THE PECKING ORDER
The head of the household and his wife ate away from the children and servants. It was a clear and important way to for those with authority to separate themselves from those under it. Age played a huge part in Puritan Society and those with more years (which meant more authority) always made it known at the dinner table.
Fun and Games
Episode 8: Dead Birds
COLONIAL PLAY TIME
Children of the colonies spent most of their time working or learning. It should come as no surprise that their puritan parents and felt strongly that children would become better citizens if they developed a strong work ethic from an early age.
THE TOYS OF COLONIAL AMERICA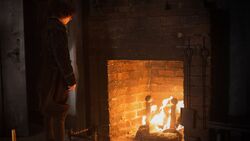 Toys were rare, as they were either expensive or took a lot of time and effort to craft. Parents with extra money could import dolls and tea sets from England, while parents with extra time and a knock for craftsmanship could build a dollhouse. However, most parents in the colonies could not afford to buy them or take the time to make them. 
EVERYDAY PLAY
Kids in the colonies were a lot like kids today in many ways. One of those was that they created games and toys out of everyday objects. They used the metal rings that held barrels together as rolling and spinning toys. A string or thread of yarn would become a "cat's cradle" and carefully placed stones and sticks would map out hopscotch courses.
WHY SO SUPERSTITIOUS?
In a time when science had very few answers for the mysteries and tragedies of the world, people looked to superstition to answer their questions. When a rare event occurred, it made sense to see it as a sign from god. And if something happened soon after that rare event, it was never seen as a coincidence, but as directly related.
WINGED SIGNS
Birds have been seen as omens throughout all of history. It is very rare for a bird to fly into a home, so the event leaves a very strong impact on people. When a loved one dies soon afterward, the superstitious mind cannot help but connect the two events, even in modern times. In fact, actress Lucille Ball ("I Love Lucy") was convinced her father's death resulted from a bird's entry into her home in 1915.
The Book of Spells
Episode 9: Wages of Sin
AN ENCHANTED TEXTBOOK
A book of spells is very personal. It is a memoir of sorts. Of the grimmest variety. These Grimoires, or magic textbooks, were not just thought to be guides, but powerful items themselves. People suspected that whoever compiled these books must have saved some of that magic to enchant the books themselves. Many cultures still assign their holy books supernatural properties. The Bible, for instance.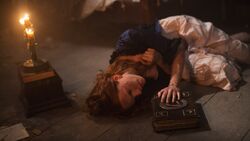 WHAT'S INSIDE
Spell Books covered magic of all sorts. They were a universal how-to for witchcraft. Spells, incantations, charms, and divination were all included. They also provided lessons in summoning angels and demons (depending on one's needs, of course).
A HOT ITEM
As Christians across Europe began to take witchcraft more seriously, grimoires became forbidden. Many were included on the church's 1599 lndex of Prohibited Books, and just owning one was cause for suspicion. It could even lead to execution as evidence that the accused was, in fact, a witch. Most people in Europe accused of witchcraft were of a poor and illiterate class. If they could not afford or read a grimoire, they could not own one. Iceland was the outlier. Their population was highly literate and one-third of their trials involved grimoires.
Anne and Cotton at the altar
Episode 10: Til Death Do Us Part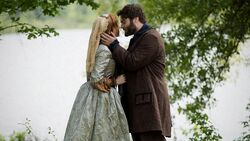 A LEGAL AGREEMENT
This was one of the largest differences between Puritan Christianity and that of the Church of England. While love was a part of it, Puritans believed that marriage was a legal agreement that had nothing to do with religion. Their marriages were conducted by magistrates (govt. officials) rather than clergy (church officials).
LOVE AND MARRIAGE
Puritans believed that love should be a part of marriage. They did not arrange marriages of children, and believed deeply that a person should use their own free will to say yes to the other. Marriage only followed a strict courtship process and the gentleman regularly asked his bride-to-be's father for permission before proposing.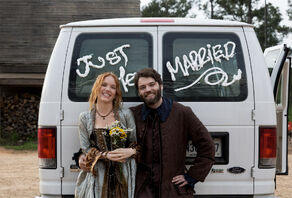 COTTON MATHER'S MARRIAGES
Cotton Mather was married three times and had fifteen children. The first two marriages did not end in divorce, but the deaths of his wives. His first wife died at a young age in 1702. His second wife and three children by that marriage were killed in a 1713 measles outbreak. Only Cotton's third wife and five of his thirteen children outlived him.
LOUISIANA LOVE
While Salem's set looks remarkably like New England, the show is actually filmed in Louisiana. Actors Seth Gabel (Cotton) and Tamzin Merchant (Anne) say they feel like locals in Shreveport. Whenever they're not dealing in witch related treachery, they enjoy the town's flare including drive through daiquiris and Southern Maid Donuts.
The Exorcism of young John
Episode 11: On Earth as in Hell
THE CHRISTIAN PRACTICE OF CASTING OUT DEMONS
There are multiple times in the New Testament when Jesus teaches that his subjects should banish "evil spirits" in his name. Throughout history, many have taken this literally and expelled evil spirits from the possessed. In 2014, the Vatican approved the International Association of Exorcists.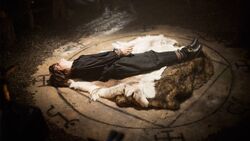 THE EXORCIST
The Exorcist performs an exorcism on a person who is thought to be possessed by a demon. This spiritual surgeon is almost always a Christian, and usually a member of the clergy. An exorcist is believed to have a special set of powers or skills that allows him to connect with the dark spirit he is trying to banish from an innocent.
THE CURE OF AN EXORCISM
The person possessed by a demon is not seen as evil. That person is a victim of evil forces. Possessed people are generally not held responsible for their actions while possessed. The exorcism is not a punishment. The exorcist tries his best not to hurt the body of his subject, only tying him or her down to make sure the demon cannot cause any harm.
EXORCISM: HOW IT'S DONE
The exorcist sees himself as a channel through which the Holy Trinity and other angels can act. He uses religious symbols, signs, and texts to bring the lord into the room. He also calls on special amulets and icons thought to have spiritual powers. If all goes well, the holy spirits remove the demon from the possessed.
The Dark Baptism
Episode 12: Midnight Never Come
THREE SHADES OF SATANISM: ATHEISTIC SATANISM
When "Satanism" comes up, it is easy to think of the evils of Devil Worship, condemn the practice and move on. But it comes in different forms, and each has its own relationship with Satan. Atheistic Satanism does not really believe in "the devil," but that there is a dark current of energy in the world that can be used for one's own purposes.
THREE SHADES OF SATANISM: LAVEYAN SATANISM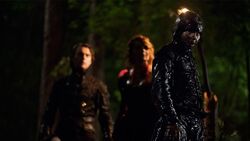 LaVeyan Satanism is a new form of Atheistic Satanism. It was founded in 1966 by Anton LaVey, who wrote The Satanic Bible, The Satanic Rituals, and The Satanic Witch. LaVey taught that there is no God or Satan on high or low, but that "every person is his or her own God." Satan is a symbol that helps all these individual Gods harness their own powers and do what they want with the world.
THREE SHADES OF SATANISM: THEISTIC SATANISM
Theistic Satanism is the more classic Satanism that we have seen throughout history. It believes that the devil is a true deity and force to be prayed and sacrificed to. It uses a lot of ceremonial magic, and often calls for some kind of sacrifice in those ceremonies. This is the Satanism that the Church put people to death for throughout the witch trials of Europe and Salem.
WHO IS SATAN?
While the details vary from religion to religion, it is generally agreed that Satan is God's enemy, humanity's enemy, and the personified form of pure evil. Some believe he is an equal force to God and locked in a battle for humanity's souls. Others see him as a collection of the stranger and darker urges we have as humans.
THE POWER OF SATAN
In Theistic Satanism, Satan does not work alone. He has an evil army of demons at his disposal. The Bible includes many stories of Satan testing mankind with temptations and sinful treats. Satanic resurrections are seen as a sign that Satan's power is growing and that the rise of the AntiChrist - Satan on Earth - is approaching. There is no greater tool for the Devil than a human possessed.
Mary fights for love
Episode 13: The Witching Hour
UNCONDITIONAL LOVE
Love without conditions or limits means that the love is there no matter what. It doesn't matter what the other person has done or what you are going through. If you have unconditional love for somebody, you will love that person no matter what he or she does.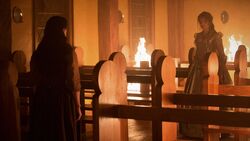 A PARENT AND A CHILD
Unconditional love is usually described as a love that bonds a family together. It is a mother's love for her child. Even in the face of possibly disappointing, maddening, or shocking acts by her child, she cannot help but still love her son or daughter.
THE INSTINCT AND PSYCHOLOGY OF LOVE
Love a strong drive for humans, so the social and mental sciences spend a lot of time trying to understand it. Ethologists, who look at humans as evolving animals, describe love as a force that drives a person to do something that benefits another but can actually harm his or her self. It's altruism. Psychology sees unconditional love as the state of mind when a person is only acting in another person's best interest.
References
Community content is available under
CC-BY-SA
unless otherwise noted.