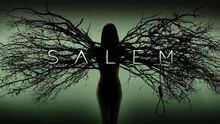 This page is about the major spoilers officially released during interviews, comic-con or articles published by reliable magazines, websites or on the TV series official social network. Due to the fact that some scenes may be cut-off, it is possible that some spoilers will not become canonical elements of the show.
What is a 'spoiler'?
Spoiler is a term used to indicate all the previews and revelations of events yet to happen in the TV series, particularly in the broadcasting season. They are therefore those elements that the majority of viewers would prefer to find out watching the episode instead of reading / watching interviews with the authors or the cast, as well as rumors released by magazines and websites.
But since some viewers are interested in anticipations and are on a certain level "spoiler tipsters", are here given some guidelines on how to discuss them without creating havoc, as Salem Wikia offers its users a spoiler-free space in order to address to the needs of all its users.
therefore you are kindly requested to respect the policies mentioned below about spoilers to prevent others from incurring into unwanted spoilers and you from being warned or even banned after recurrent spamming from Salem Wikia for violating its rules (for further information, see: Comments and Chat Policy).
Policy about Spoilers
'This website has not yet adopted a clear policy regarding spoilers; 'help us to structure it by expressing your opinion in this forum thread.
Any anticipation, theory or conjecture must be given in Salem Wikia Forum accompanied by a warning to prevent someone from running into unwanted spoilers.
Conjectures, theories and anticipations should be treated as such; for this reason should not be for any reason inserted in pages passing them off as facts. In case they prove to be true, they will be incorporated in due course in the page main contents once shown in the episode.
Will be considered as spoilers events that occurred in the episode aired up to 48 hours after its release, to allow even overseas viewers to watch the episode without ruining the surprise by reading about major plot twists (i.e. characters' death in infoboxes).
Interviews and officially released spoilers (such as anticipations from next episodes trailer) will be included in the trivia section of episode or character pages, so avoid to read this section if you do not want to know anticipations of any kind.
Within 48 hours of pause in which the pages will be closed to prevent updates that do not respect the rules on spoilers, it will be possible to comment on episodes in special forum threads, weekly created for the purpose (eg. "Comments about Episode 3.01 [Title of episode]")
The abovementioned theories, conjectures and anticipations as well as events within an episode should not be spammed in characters, species or locations pages until the 48 hours of the break will be passed. Even after the break, remember to follow the rules on comments and chat.
However, please note that appropriate content should be discussed and commented on in the right page to avoid confusion and unwanted spoilers. Season 3 and "[Title of episode]" pages will therefore be better suited to general comments on what happened in the particular episode (eg. no unrelated discussion about John Alden in Anne Hale page and things like this).
Season Three
SPOILERS AHEAD
Season Three
Cotton Mather will play a role similar to the one George Sibley had in the first season, but to not waste the talent of the actor (Seth Gabel) and repeat the plot, Cotton will be harder to keep in check with a familiar.
Anne Hale has been compared to Season One's Mary Sibley, suggesting that now that Mary is out of the game, Anne Hale, now Cotton Mather's wife, is the most powerful woman of Salem.
Isaac has been compared to Parsifal and his path to that of the fool who becomes hero, so we can deduce that Isaac will play a more important role in the coming season, maybe in line with the militia of the witch hunters (as suggested by the season finale of season two).
Adam Simon has considered the idea of dr. Wainwright's return, suggesting that a man end up in Hell alive, once resurrected could return with little mental stability (" So the real question for Wainwright is, when he emerges from Hell, will he have even a shred of sanity left?")
Joe Doyle will return to play the role of Baron Sebastian von Marburg, promoted as a major character.
Jeremy Crutchley will return to play the role of Magistrate Hathorne, with an even more important role. ("Hathorne is a very important character, and Jeremy Crutchley is a remarkable actor. I hate to disappoint you -- but I think in season three, Hathorne will be even more important than he has been so far.")
We will see again the Essex's stronghold and maybe discover some of the Surviving Essex's witches' secrets.("If we see more of the spider-witch-head, which will be creepy but totally up for it, that means we will also see the Secret Essex Stronghold, I'd imagine? Unless the spider-witch-head escapes, then our trip inside that awesome tree wasn't the last.")
Season three will probably introduce other historical events, referring to the witch trials that were still in place during the years when the show is set.("We have a lot more story to tell -- that's for sure. The true Salem events are still only in their first months in our show -- the most important events haven't even happened yet -- and they continued for nearly 2 years! And beyond that we're excited about a whole supernatural twist on American history, even beyond the events at Salem, so fingers crossed there will be much, much more to come...") "The events in Salem in 1692 that we know as the Salem witch panic has barely begun," says Simon. "One of the things we will be doing is touching base again and in fact with the real history of Salem. "So now several months into it we're going to start to see and play with the more famous events that did actually happen there. The big trials all came once the new governor arrived and a panel of judges were there. I'd say keep your eye on Hathorne who actually is one of those characters, like many of our characters, who's based on a real [person], and that character in real life became the real focus and … judge, as it were, of the witch trials."
Both Mary Sibley and Tituba, main character in previous seasons, are truly dead. But the real question is: as far as they will remain dead? We haven't seen the last of Mary Sibley "Death is not the end on 'Salem,'" says Simon. "Death literally and figuratively is one place on a circular clock, not a digital one, that goes around and around and around, like the weave of fate." Adam Simon continues, "Mary Sibley has always been the heart of 'Salem.' And the epic romance and often tragic romance between her and John Alden has always been fundamentally the driving motor of the show. So whether you call her dead or alive or however she may be, those two things will remain true."
Mercy Lewis (Elise Eberle) is still consumed by anger, again disfigured. Brannon Braga has called her the "first monster of America" that collects the Salem children's souls. In Season Three Mercy will lead a brothel in Knocker's Hole named Bird's Nest.
Since there are enough characters and plots it seems than no major characters would be introduced in season three (as happened in season two with Hathorne and the Marburg witches). Recurring and extras will feature instead.
Seth Gabel, who plays Cotton Matter, promised that season three would be crazier than season two. The actor said, "What's so exciting about a third season, what I love about this show is it keeps going and going deeper down the rabbit hole. [...] This just means we're going to be able to go even further than we did before ... If you saw how crazy season 2 was, we're going to get even more so."
Marilyn Manson will join the cast in a special guest starring role. Manson will portray "Thomas Dinley," a barber and surgeon who is the go-to man in Salem, from a shave and a haircut to being leeched, bled, sliced open or sewn up.
Production on the third season, produced by Fox 21 Television Studios, begins January 21st, 2016 in Shreveport, LA.
More witches are coming: "One of the things that's always been a goal with this show is not just saying, 'Oh, look, there's witches in Salem,' but to say, 'This is a world of witches,'" explains Simon. "The new world is filled with French witches, Spanish witches, German witches, as we've seen, so we will certainly find opportunities to bring these other witches to [Salem] particularly now that the quote on quote dark lord is quietly, potentially reigning in Salem. That's got to come to the notice of others who walk the left-hand path or work the night side, as it were."
Love is not dead: "I will say, there is going to be a huge, suspenseful, romantic arc that does include our most central characters that we've mentioned and know. And [it] includes what we've left hanging in relation to what does the dark lord himself want from Mary, what does Sebastian Marburg want from Mary, what would John Alden want, and Mary, in whatever form she may be in, what does she want? That will still be at the very, very heart."
There's a whole other world below Salem. "There's an underground in Salem, literal and figurative. The town of Salem has tunnels all over the place, this is true. Smuggling tunnels, all kinds of things — and who those tunnels belong to, what their purpose is, what is really going on in Salem on the Puritan side as well as on the witch side is going to be a great fun thing that we're going to get deep into."
Cotton Mathers isn't the new George Sibley: "[Anne and Cotton's] story is not over … he has been Sibley'd, as it were, but do not think for a moment that he's going to be sitting in that wheelchair just paralyzed. There is going to be a lot going on inside him and outside him with what he's doing and what they're doing. So that's going to be very, very central next season."
Move over 'Witch War,' and hello 'Road to Hell'. "We give each season titles. Season 2 was sort of coined as 'Witch War' and maybe this will turn out to be our title or maybe this will be our private joke … [but] we say it's the 'Road to Hell' because as we all know, the road to hell is famously paved with good intention, and that's kind of been Anne's story so far." A. Simon explains, "Anne, as we've seen, is a wonderful person on so many levels. But with that character we also really wanted to play with how someone might, well, go with the best of intentions in the entirely wrong direction … Anne has really convinced herself with everything she's done, including what she did last night with Cotton, that it's all for the best. It's always the best of intentions."
Increase Mather will return in season three. Let's find out how by Stephen Lang's own words: "As you know, I was killed and consigned to Hell. But that didn't stop them from bringing me back, but that was in Season 2. In Season 1, when my character, Increase Mather, got there, he just kind of started dominating and ruling; and of course it ended with his death and the dogs were eating him. And then he came back from Hell, where he's learned a few things, but it's not easy to come back from Hell, it can only be done occasionally, so in Season 3 my voice will appear. And then it's kind of anybody's guess whether I'll make the journey back or perhaps they'll make the journey down to see me at some point down there, but all I can say is once you're on the show, you're kind of part of that world, and just because you're dead doesn't necessarily mean you'll never be seen again. He was a powerful and great character to play; I enjoyed playing him immensely."
SPOILERS AHEAD
Previews
Production designer John Zachary has made significant anticipations regarding the upcoming third season on Louisiana Film & Video Magazine - Issue #1 2016:
The mysterious Thomas Dinley, the new barber played by Marilyn Manson, will have a barbershop nothing short of appalling, where he will offer the services of his razor not only for trimming beards...
The reckless witch Mercy Lewis will be the madame of a brothel in Knocker's Hole called Bird's Nest, in honor of her bird familiar.
Several of the new sets are constructed by recycling previous locations, such as the study of *Dr. Wainwright from Season 2.
J. Zachary revealed that every Salem season has its own color tone. The third season will be painted red, for example Bird's Nest brothel interiors.
Also on Louisiana Film & Video Magazine, director Joe Dante and cast member Shane West stated that this season will see the presence of many animals on set.
On Rogue Magazine, Shane West gave a little preview of what we can expect on upcoming episodes of the show. "We're building toward who will have their power in Hell, and if Hell will actually come to Earth. We get all these wacky characters and creatures this year that keep coming out of the bowels of Hell. I can't even really list the actors yet because they haven't even been allowed to say they're on the show at this point (minus the fact that we've been able to add Marilyn Manson, who plays essentially a Sweeney Todd character of the barber/surgeon in the town, which has been a trip). Manson and I became friends about a year before the show started. So it's great having him aboard doing this thing. I think if you're really a fan of this show, you're just gonna see the world a Salem open up more this season."
Spoilers from Comic Con Interviews
Main Article: Comic-con
SPOILERS AHEAD
Comic-con 2015 Interviews with cast and crew of Salem
Ashley Madekwe and Seth Gabel on what they'd like to see Tituba and Cotton Mather experience in the third season:

Ashley Madekwe: I gave a great idea, we'll see if it happens, because if Tituba does come back, she's had her eyes pecked out. I gave an idea that maybe she uses something else as eyes. Maybe she uses some animal's eyes. I also pitched the idea that because Mary [Sibley] and Tituba have been at odds for so long, I would love for them to come across each other in the woods in dire need and have to be with each other and I think of a spell whereby Mary has to spit in my eye socket to help me grow new eyes.
Seth Gabel: I'd love to go into hell, the astral plane and have some kind of rescue mission for Little John or whoever else might possibly be dead, to bring them back to the real world.
Janet Montgomery and Shane West on Mary Sibley and John Alden's potential future relationship:

Janet Montgomery: I'm excited for a third season because the first season you saw Mary really trying to build her power. At the beginning of the second season, she was on top of the world, apart from obviously the stuff with her son. She had all the power and then you see her decline throughout season two to the point where she's a shell of a woman. I'd be interested to see how that manifests into who she is in season three. If she does somehow live or survive or they bring her back somehow, what that means for her soul, who she is.
Shane West: With John [Alden], I'm more or less interested in seeing where this is going to go, where the John/Mary dynamic is going to go clearly based off of your life, because I still also feel like he's not really accepted back into Salem yet. That never was really discovered as he ran out and hid and tried to kill witches and became a witch hunter. To see where he can even go from there or if we hear him or not. He's open, he's committed at that point. I feel that they have a much better shot of being together in season three than they would in season two.
Janet Montgomery: What's interesting is that even though you [John] want to kill me, finding out that we have a son together and now what's happening with our son, Little John, where that's going to go and if we're going to have to work together and rebuild. I think they obviously love each other, but I think there's a lot of anger and pain always underneath the surface.
Elise Eberle and Iddo Goldberg on the respective futures of Mercy Lewis and Isaac Walton:

Elise Eberle: My character [Mercy Lewis] is so unpredictable, and the things that she has done so far—crucified, possessed, burned, bloodbaths—I'm just along the ride. Whatever happens, just give it to me and we'll see how that goes.
Iddo Goldberg: Brannon [Braga] and Adam [Simon] gave me this opportunity in episode eleven to really raise my voice beyond the volume I'm usually allowed to speak at, and really say what Isaac [Walton] wanted to say. That was this moment in his life when he acted courageously and just didn't care anymore, and that psychologically prepared him a little bit. At the end of the season, he's obviously lost this innocent love that really cared for him and really looked after him and saved him, and that is a horrible thing for him, but it's like a clean slate in a sense though, he can almost go anywhere. I'd love for him to maybe go a bit too far, because he may feel like this policeman patrolling Salem, and that might get to his head a little bit, he might enjoy that job a bit too much.
Salem co-creator Adam Simon on key moments from the show's second season:

Adam Simon: We debated about Increase Mather's [Stephen Lang's character] ghost—is it going to feel cheesy? But we just said, "You know what, ghosts are real. Hell is a real place on this show." And I think it worked great.
SPOILERS AHEAD
Comic-con 2016 Interviews with cast and crew of Salem
Mary Sibley and Cotton Mather will live together and work together against a common enemy, dubious about trusting one another given the stormy past and past manipulations that led Mary to use Cotton to wet the earth with innocent blood.
John Alden will no longer be affected by the shamanic magic.
This season will be hell on earth, and it will have a central role.
Characters that we thought dead will return in one way or another.
During San Diego Comic-Con, Adam Simon was most excited about this season because he finally has a chance to explain the Essex witches further and why they initially made a deal with the devil. Simon tells us, "We get that the witches were not servants of the devil. There were witches that were tied to other religions and other beliefs. We tell that story finally in season three. We tell that story of the Essex witches who really were pagans who went back hundreds and thousands of years in their beliefs ended up being so sick of being murdered by the Judeo-Christian powers that be and others. They finally said, okay, the heck with it and made a deal with the devil to get revenge in a way. Then when they do, they find the consequences are not to their liking. The devil is not going to deliver the regreening of the earth that they dreamt of. It's only they who may have a chance of stopping them when they realize it's the devil who is bringing everything they hate even moreso. That's the funnest part for me intellectually certainly about the show. I've been waiting three years to say to people out there in the world, yes we know. We are not demonizing witches. Stick with us. Understand the history that we are playing with."
Witches vs The Devil: Of course, Mary will have to come to terms with the fact that only she could kill her son who is bringing hell on earth and enslaving all the witches, but will she have to do it alone? According to Shane West, who plays John Alden and father to the devil, she'll have a lot of help from him.

West tells us about the new partnership with the witches, "It's kinda for the greater of the good for society that he puts this aside because his son is essentially the devil and now opening up hell. He's bringing out hell. It's really a combined effort." Montgomery adds, "I think he's less worried about the witches and more worried about hell on earth and the devil. Everyone is forming alliances where they wouldn't usually in order to survive."
As for 12-year-old Oliver Bell, who has the responsibility of being the lead villain this season, Montgomery tells us to be very afraid of him this season. "He gets better and better. The writers really took a gamble because he had school and everything else. They gave him a lot of responsibility this season," says Montgomery. "He was incredible and so much fun to work with. You guys are going to be scared shitless when you see him this season."
References
See Also