SALEM


Network: WGN America

Salem

is an American television series loosely based on the historic

Salem Witch Trials

created by

Brannon Braga

and

Adam Simon

. In the United States, it premiered on

WGN America

on April 20, 2014 as the network's first original scripted series. Salem follows the lives of a community in Salem, Massachusetts in the 17th century during the infamous Witch Trials, only this time it's the witches that are controlling them for their own wicked purposes.

Mary Sibley

(

Janet Montgomery

) leads a secret

coven

of witches, including

Tituba

(

Ashley Madekwe

) to turn the Puritans against one another to perform the Grand Rite, but things get complicated when Mary's lost love,

John Alden

(

Shane West

) returns to Salem, and

Cotton Mather

(

Seth Gabel

) closes in on the witches.
This page is part of a Wikia-wide effort to provide specific information to help parents make responsible and informed choices about what their kids consume.
General Information

Title:
Salem
Original Network:
WGN America
Original Run:
April 20, 2014 - January 25, 2017
Episode Length:
45 minutes
Description:
Set in the volatile world of 17th century Massachusetts, 'Salem' explores what really fueled the town's infamous witch trials and dares to uncover the dark, supernatural truth hiding behind the veil of this infamous period in American history. In Salem, witches are real, but they are not who or what they seem.
Main Characters:
Mary Sibley • John Alden • Anne Hale • Cotton Mather • Tituba • Mercy Lewis • Isaac Walton • The Devil • Sebastian Von Marburg • John Hale.
Similar Series:
American Horror Story; Penny Dreadful; Damien.
Availability:
Basic Cable (or equivalent) in the US, disc media, streaming services.

Content Information

Rating:
TV-MA
Content Labels:
Historical fiction, Satanism, Religious extremism, Racism and slavery.
Violence:
Graphic and disturbing violence, blood and gore, mass murder, mutilation, and other horror-type imagery.
Language:
Suggestive dialogue, Coarse Language
Sexual Themes and Nudity:
Sexual themes featured regularly, including masturbation, rape, and other types of sexual violence. On less than a handful of occasions sexual acts are implied and cast members are occasionally naked. However, through camera angles and carefully placed items blocking the view, no full frontal nudity is ever shown.
Drugs and Alcohol:
Mild references to drugs and alcohol abuse.
Crude Humor or Comic Mischief:
Mild.
WGN Salem rating
Further information: TV Parental Guidelines
TV-MA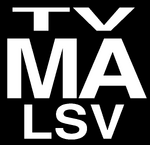 TV shows marked as "TV-MA" means that such program is specifically designed to be viewed by adults and therefore may be unsuitable for children under 17.
This rating was originally TV-M prior to the announced revisions to the rating system in August 1997 but was changed due to a trademark dispute and in order to remove confusion with the Entertainment Software Rating Board's (ESRB) "M for Mature" rating for video games. This program may contain one or more of the following: crude indecent language (L), explicit sexual activity (S), or graphic violence (V).[1]
Depending on the episode, S (explicit sexual activities) is present or not, while L (crude language) and V (graphic violence) are almost always present.
On Canadian rating system, Salem is labeled as 18+ – Programming intended for viewers ages 18 and older. Just as their US counterpart as TV-MA, 18+ programmes may contain explicit violence, extreme language, and sexual activity. Programming with this rating cannot air before the watershed (9:00 p.m. to 6:00 a.m.).
References