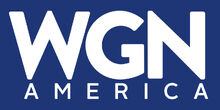 WGN America is an American basic cable and satellite TV channel that broadcast Salem, one of its original series, for its whole duration.
Main: WGN America on Wikipedia
WGN America is an American basic cable and satellite television channel, that operates in principle as a superstation feed of Chicago, Illinois television station WGN-TV (channel 9). Owned by Tribune Broadcasting, the channel is one of several flagship properties owned by the Chicago-based Tribune Company, which also owns the Chicago Tribune, regional cable news channel Chicagoland Television (CLTV) and radio station WGN (720 AM). WGN America is the only remaining U.S. superstation to be distributed nationally through both cable and satellite television – a distinction it has held since the October 2007 split of TBS from its former Atlanta local feed. WGN-TV/WGN America is also one of four superstations that are owned by Tribune: KTLA/Los Angeles, KWGN-TV/Denver and WPIX/New York City are distributed nationally through Dish Network (for grandfathered subscribers of its superstations package that purchased the a la carte tier before Dish halted sales of the tier to new subscribers in September 2013), on cable and satellite providers throughout Canada (all four stations are authorized for cable and satellite distribution as a U.S. superstation by the Canadian Radio-television and Telecommunications Commission; however, KWGN-TV is the only one of the four that is not distributed in that country), and are available through cable on a regional basis in their respective regions of the Western and Northeastern United States.
As of August 2013, WGN America is available in approximately 73,969,000 pay television households (64.77% of households with television) in the United States. [1]
WGN America's first original program to air is Salem. The networks first original programs are to start in early 2014, all its programming before then being syndicated from other networks.
Due to various administrative choices, WGN America didn't renew any of its current original TV Series in 2017. Willing to refresh their production and attract a wider range of viewers, they changed their programming from historical drama to Sci-Fi and thriller, producing a new set of WGN America original series. [2]
100 Code (2018)
Bellevue (2018)
Pure (2018)
Shoot the Messenger (2018)
WGN America Original Series
[
edit
|
edit source
]
Salem (2014-2017)
Manhattan (2014-2015)
Outsiders (2016-2017)
Underground (2016-2017)
Ten Commandments
American Dream
Shadow Land
Ness
During the third season, episodes aired a couple of days in advance on TNT Deutschland, on Sunday, while WGN America aired the episodes on Wednesday. This, along with poor advertising and delaying of special content release, was seen by some fans as a demonstration that the channel was no longer interested in the series. In fact, the series was cancelled at the end of the third season.
Community content is available under
CC-BY-SA
unless otherwise noted.